What is the Gender & Pay Gap in Leadership?
The gender and pay gap in leadership is the disparity in numbers and difference in remuneration of key management and leadership roles across all sectors of the workforce between men and women.  We break down the numbers coming out of the Workplace Gender Equality Agency datasets on Australian companies in a search for meaningful answers.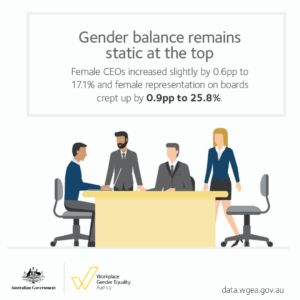 The disparity between men and women is a relatively simply figure to equate.  How many positions are available vs how many are held be men vs women?
There are many ideas and initiatives being tried to "close the gap", however key management roles and CEO positions are stuck at very low percentages and not materially moving.
Just looking at Australia and focussing on ASX200 publicly listed companies (open data at the top), the figures speak for themselves…
Only 12 out of the 200 have a female CEO.

17 of the 200 don't even have a woman in their executive leadership team.

114 companies have no women in "line" roles reporting to leadership team.

Less than 30% of board positions are filled by female board members.
Women hold 14.1% of chair positions and 26.8% of directorships, and represent 17.1% of CEOs and 31.5% of key management personnel.  34.0% of boards and governing bodies have no female directors. By contrast, only 0.9% had no male directors.
These figures correlate with the wider workforce with just over 17% of all companies (not just the top ones) having female CEOs and only 30% of key management positions are held by women.
What about the Gender
Pay

Gap..?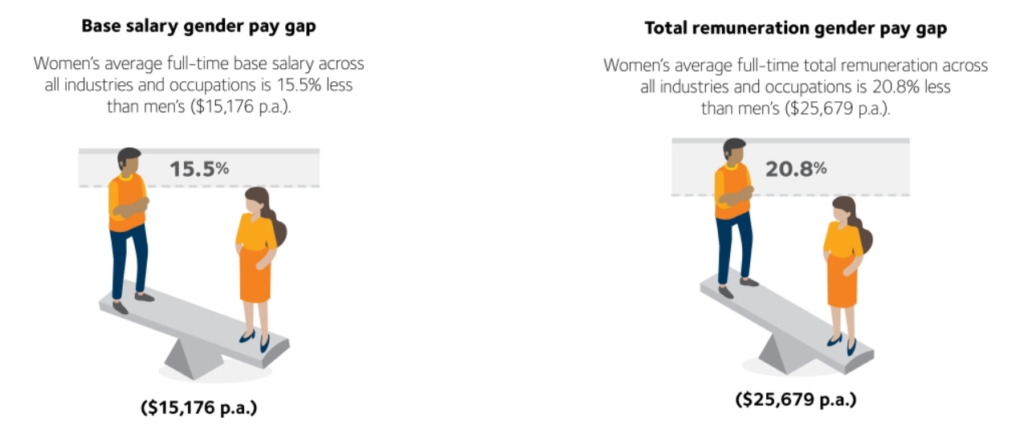 The official Gender Pay Gap is derived as the difference between women's and men's average full-time equivalent earnings, expressed as a percentage of men's earnings.  An important area to note is that we are talking about the amount "less than" a man's remuneration a woman receives rather than the amount a man receives "more than" a woman for the same role.  Whilst dollar amounts in these equations are the same (eg. 100-80=20 vs 80+20=100) this measurement means the mathematical percentage (%) is based on the higher number leading to a lower percentage (eg. 20/100=20% vs 20/80=25%).
When looking at the entire workforce and measuring full-time base salaries, we land on an average of 15% (about $15K) difference between men and women.  However, if we take into consideration total remuneration (add bonuses etc) we get an average 20% (or about $25K) gap.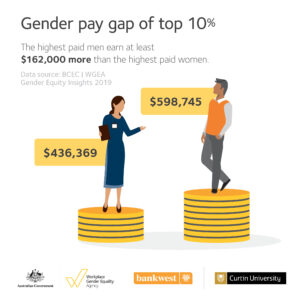 Similar to the pure difference in numbers, there are many reasons for the Gender Pay Gap and many initiatives being tried to counter this phenomenon.
There are also differences based on industries with their own reasons and historic causes. Health Care and Social Assistance remains the industry with the highest Gender Pay Gap, followed by Financial and Insurance Services, then Professional, Scientific and Technical Services rounding out the top (or bottom, depending on how you're measuring) three positions – all with an average Gender Pay Gap of over 20%.
Now, if we focus on leadership and take a sample of the top 10% of earners across the entire workforce in Australia, we see the Gender Pay Gap widen to over 27% which means a gap of over $162,000 between the highest paid men and women.
This means that even when women do rise to top positions, the Gender Pay Gap between men & women is astonishing!
So, we find that leadership roles across the Australian workforce are dominated (to the tune of 70%-83%) by men over women.  That is the gender gap / disparity from a pure number perspective today.
We also find that the Gender Pay Gap widens the higher up in leadership women go. From 15% base salaries across the board, 20% total remuneration and 27% for key management positions at the top. That's a financial difference between the average of $25K right up to $162K!!!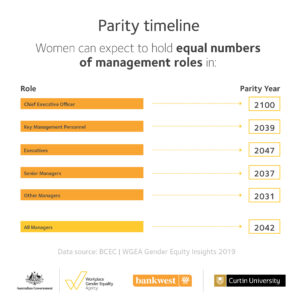 Unfortunately, at this rate, the Australian workforce will take 20+ years to reach anything close to gender parity in management numbers and likely far longer to close the Gender Pay Gap. Executive positions are a particularly steap mountain to climb and if nothing is done, the role of CEO likely will not see parity until the next century!
At Requality, we're obviously in the business of addressing this very issue.  We enable employers find top talent female leaders amongst our membership base and offer them the ability to create parity at the interview stage of their recruitment process.
We also allow our members to compete fairly, be recognised for their talents and be compensated equally by gaining an insight into employers' policies, remuneration packages and Gender Pay Gap goals.
Check out our other articles, links to external research, or get in touch to see how we can help you find your next opportunity or enable your employer to close the gap!
Lastly, a huge thank you to the Australian Government Workplace Gender Equality Agency for these stunning and transparent datasets that are made available to us.  We appreciate being able to leverage these assets for our cause.
Please leave a comment or suggestion, we love hearing from our readers, plus feel free to share this article with your networks.